One of the first nations to confirm their 23-man squad participating at Euro 2016 was Portugal, their announcement seemingly slipping under the radar and prompting little discussion in comparison to the drama surrounding the inclusions and omissions in the squads of some of their couterparts.
You could joke  that the squad announced was 'Cristiano Ronaldo and 22 others' and, while there's some element of truth to it, the team's staunch performance against England at Wembley in a pre-tournament friendly proved there's more to them than many may first give them credit for.  Nevertheless, the squad does contain a number of less high-profile players, many of whom will not be known to the average armchair football fan.  It's a far cry from the famous Portuguese 'Golden Generation' that graced the game throughout the 90s and early 2000s.  But was that generation really golden?  What went wrong for a group of players of whom so much was expected and yet so little delivered?
The term Golden Generation has been used in many guises in the footballing world, most notably in reference to the England team containing the likes of David Beckham, Steven Gerrard and Frank Lampard and more recently to the Ivory Coast team containing Didier Drogba and the Toure brothers.  There's no doubt, however, that the original use of the term relates to Portugal and, more specifically, to a special group of players who began their rise in the game in the late 80s and early 90s.
Containing a team of little known teenagers, the Iberian nation won two consecutive Fifa World Youth Championships in 1989 and 1991 respectively.  The second of the victories came on home soil for a team brimming with talent that had the whole of the football world discussing what could be possible if they could make the often-difficult transition from success in youth football to success at a senior level.
Led by the most golden of boys Luis Figo, a creative and skillful playmaker rising through the ranks at Sporting Club de Portugal, that team forged relationships between him and a number of other players who would go on to become household names in world football.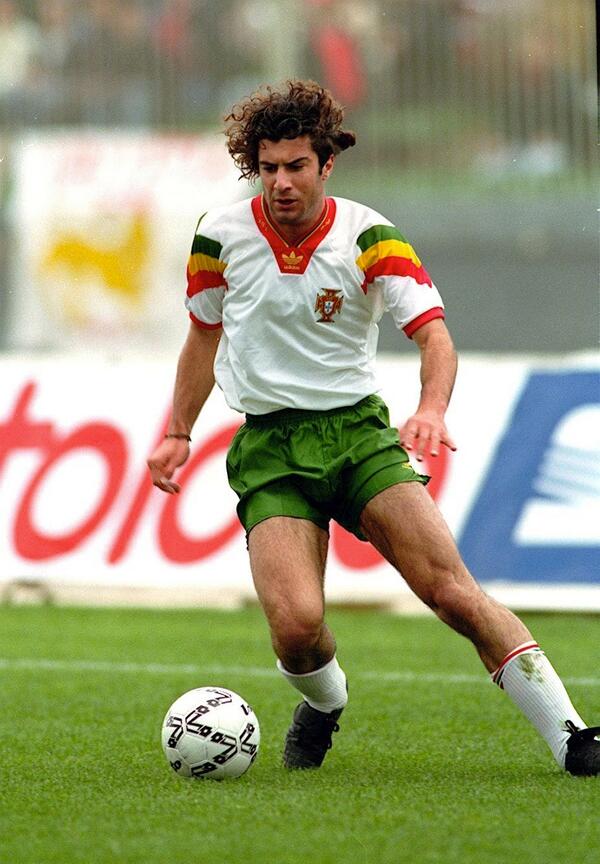 Peixe, Jorge Costa, Joao Pinto and Rui Costa were just some of the names who joined the afore mentioned star man in securing the back to back trophies that got the football world talking.  As a senior national team, Portugal had failed to qualify for a major tournament since the World Cup in Mexico in 1986 and many in the country believed this young team could immediately change that fortune and build to further success over the next decade.
This would not come to fruition.  Despite the success of the U20 team in the late 80s and early 90s, their transition to senior level would not prove smooth.  A Selecção would go on to miss out on qualification for three consecutive World Cups at Italia '90, USA '94 and France '98, with little better fortune in the European Championships.  A competition first played in France in 1960, Portugal made only one appearance at the finals prior to the emergence of this lauded group of players.  Reaching the semi final in France in 1984, they would have to wait over a decade before returning at Euro '96 in England where they would fair less well, reaching the quarter finals instead.
As well as members of the famous Fifa Youth Championship winning squad including Figo, Rui Costa and Joao Pinto, the team had added significant quality with the likes of Sa Pinto, Pedro Barbosa and Fernando Couto by the time they reached England in summer '96.  They topped a group containing defending champions Denmark and a talented Croatia side featuring the likes of Robert Prosinecki and Zvominir Boban with it taking a now-iconic chip from Karel Poborsky to send them crashing out.
That Euro '96 squad, however, marked a change for the country.  They had found their footing in the final stages of a major tournament once again and many felt they had a group of players that would always prove a threat once there.  As previously mentioned, this wasn't the case for France '98, but the senior side went on, in the aftermath of that failure, to become regular participants at the finals of major tournaments.  Their appearance at Euro 2016 marks their 9th consecutive qualification for major finals, an achievement that has taken in 4 World Cups and 5 Euros respectively.
Despite all this, however, there is a commonly-held belief that Portugal's Golden Generation was a failure.  Certainly, as far as the Euros are concerned, they did not disgrace themselves.  They made the semi-finals twice, in 2000 and 2012, and came agonisingly close to repeating the magnificent feat of that promising young U20 squad.  Playing Euro 2004 on home soil, they managed to reach the final, conspiring to lose 1-0 to an Angelos Charisteas goal for a Greece side who pulled off what is considered one of the biggest shocks in the history of international football by winning the tournament.
Embed from Getty Images
Perhaps it is A Selecção's record at the World Cup that holds the secret to why they failed to meet the admittedly high expectations placed upon them.  They failed to get beyond the initial group stage in South Korea and Japan in 2002, a feat repeated at the most recent World Cup in Brazil in 2014.  In both cases, they were bested by United States squads who put in performances above expectation and, while in 2014, they lost out to eventual winners Germany, their inability to overcome hosts South Korea in their group in 2002 was seen by many as an embarrassment for a nation with considerably greater footballing pedigree.
What could have been for Portugal is one of football's most debated questions.  It's clear that, given the potential they had 25 years ago, they had a group of players with the ability to progress and compete at the highest level on the international stage.  To an extent, there has been progress, with them now being more of a regular fixture at major tournaments than ever before in their history.  Nevertheless, many followers will be hoping for better to come.
They've shown a glimpse of what they can do, coming fourth and being officially voted the most entertaining team at the 2006 World Cup in Germany.  A decade on, they go to France sporting a little-known but promising group of players such as Joao Mario and William Carvalho, supporting one of football history's greatest players in Cristiano Ronaldo.  He's under no illusions, however, when it comes to estimating his sides chances of winning;
"Winning such a big tournament with my national team is a personal dream. However, this will be complicated. Let us wait and see…"
Complicated, it will be.  Impossible?  Maybe not.