In a piece for The Guardian earlier this week, Barry Glendenning commented on how, despite all the changes in the national game we love, the desire remains strong amongst football fans to discuss even the most random, minute details of the game.  An example to which he referred, was a boast by fellow journo Jonathan Wilson that he would be able to name any topflight ground between around 1984 and 1996 purely by observing the pattern of the net used in each ground's goals.
Ridiculous, you might think.  What an anorak that guy must be.  But I have a confession to make – and I'm going to out my brother on this one too.  Give us the name of any player between the mid 1990s and the mid 2000s and we would most probably have been able to tell you what sports brand of football boot they wore.  In some cases, we could take it a step further (excuse the pun), identifying numerous top flight footballers of the era from across Europe using only a picture of the boots they were wearing at the time.
Embed from Getty Images
Take the man on the left here – recreating a famous celebration with Paul Ince that couldn't be more 90s if there was a copy of the Ace of Base greatest hits playing in the background.  That man? Ryan Giggs, of course. Most football fans, no doubt, would immediately think of his mazy runs, that goal against Arsenal and all the trophies he won both domestically and in Europe.
Not me, though.  Ryan Giggs, to me, represents the first recollection I have of a player being endorsed by a sports brand.  It may be commonplace in today's market of image rights and sponsorship deals but back in the day, you only had to watch the first 10 minutes of 'Ryan Giggs: Secrets and Skills' to know exactly who sorted Ry out with all his gear.  Despite being seen in every other instance in stuff emblazoned with Umbro and electronics company Sharp, as the sponsors of his club, the video shows Giggs in Reebok gear from head to toe, a label he DID carry with him onto the pitch in the boots he wore.  Enjoying a deal with the sports giant that was believed to be worth around £20 million, Giggs wore the famous brand for pretty much his entire 14 year playing career at Old Trafford.  And it was that particular association that sparked an interest in players and their boots that would stay with me for the next decade.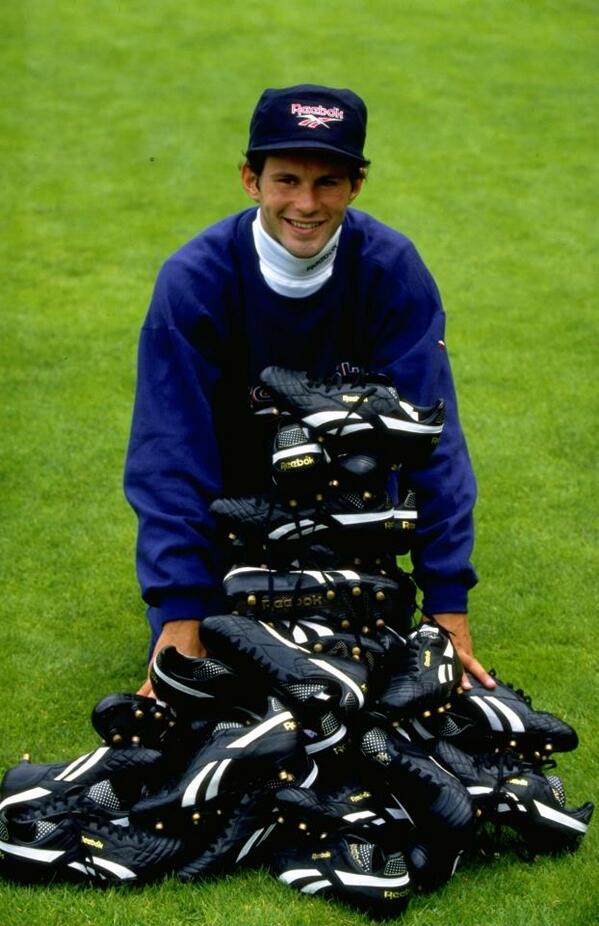 Credit: 101greatgoals.com
 It's strange what sticks with you from childhood.  For some reason, there is another player-boot association that has always been prominent in my mind, despite the fact I don't have any particular love for the player involved.  The player was Alan Shearer and the boots were the Umbro Speciali.
Perhaps just a result of the time period in which I grew up, these boots bring back numerous memories.  Even reading through the list of players who have most famously worn them is like reading a who's who of 90s football.  Soccer Bible quite  comprehensively summarises just what makes these boots so great and why they were worn not only by Shearer, but by other luminaries such as Michael Owen, Roberto Carlos and, of course, the one and only Carlos Valderrama.  A simple and yet elegant style of boot,  the wearers of them have produced some of the most iconic moments in football, including the famous 35-yard free kick scored by Robbie C at Le Tournoi in 1997.
There has been a shift in modern times.  Where players, at one time, simply endorsed a pre-existing type of boot, now they are designers, adding their own name to a particular boot.  Messi has them for Adidas, Cristiano Ronaldo has his CR7 range with Nike and there are numerous other examples.
The first time I can remember a boot being associated and branded around one player, however, was way back in 1998.  Ronaldo Luís Nazário de Lima, or 'original Ronaldo', as my brother calls him, was top of the footballing world at the time.  Having established himself in the European game with successful spells at PSV and FC Barcelone, he was in the process of banging in the goals for Inter Milan, when Nike produced the first Mercurial boot in his honour.
Credit: www.highsnobiety.com
This was the beginning of what would become the most successful brand of football boots for Nike, not only resulting in a modern tribute version of Ronaldo's boot being released in 2013 to mark 15 years since its' original release, but also a myriad of other designs, including those of the modern Ronaldo, CR7 himself.
I thought this would be a nice place to finish this particular blog.  I've had my fun and I've shared exactly what boots I remember and why.  But I'm afraid my brother would actually kill me if I didn't give special mention to the boot he considers to be above all other boots. "THOSE are the ones you want," he always says.  What boots exactly?  The Adidas Copa Mundials or, as they're more commonly known on the west coast of Scotland, the Adidas World Cups.
The highest way to praise these boots is to say that they are the quintessential football boot.  A classic and simple design, they are instantly recognisable as football boots, even to people with nowhere near the utter geek-level interest in this particular area that I have.
Lothar Matthaus wearing Adidas Copa Mundial Credit: www.soccer.com
KICK TV logged them at number one in their list of the greatest football boots of all time, just edging out Adidas' second most successful boot brand, Predator.  First released in 1979, wearers have included some footballers you might have heard of – Diego Maradona, Franz Becenbauer, Pele and Zinedine Zidane anyone?
Boots are ever changing these days.  Bright and garish colours have replaced classic simplicity, colours often not matching between the left and right boot.  But no matter what happens, boots will always have a special place in the hearts and minds of football fans.  It's through these boots we can watch players weave their magic and provide us with the moments we never want to forget.  So whether they're studs or blades, screw-ins or mouldies, let's just enjoy them for exactly what they are – little vessels of nostalgia for us to treasure for years to come.